Saheed Laxman Nayak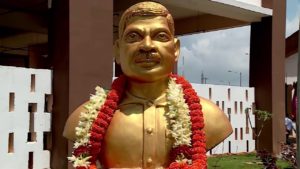 About Hospital & College
This hospital was started in Koraput district as Dispensary in 1908 in an Old Building. It was upgraded to Local Fund Hospital in 1937 with 47 beds. It was shifted to the present building on 25.10.2004 with 188 functional beds. Now it has 300 functional beds.
Based on the scheme of Government of India, Government of Odisha has decided to upgrade this hospital into Medical College Hospital in view of benefit of patients not only in the undivided Koraput district but also other backward districts like Kalahandi, Nuapada as well as the two neighbouring states of Andhra Pradesh and Chhattisgarh. This hospital is now named as Saheed Laxman Naik, Medical College Hospital, Koraput, Odisha.
Tribal resistance movement was an integral part of freedom struggle and the heroic role played by many distinguished tribal leaders was commendable. They had identified themselves with the mainstream of the freedom struggle against heavy odds and at the cost of their lives and princely career. Saheed Laxman Naik of Koraput is one of them. There is a long and illustrious list of tribals in this resistance movement which took place in different parts of Orissa. But nothing could be more inspiring and edifying than the saga of heroic struggle and sacrifice of one single tribal leader of Koraput whose feats and exploits till today are unparalleled. It was none other than Saheed Laxman Nayak, the distinguished heroic tribal leader of undivided Koraput district, who took very active part in freedom movement , who was born Bhumia tribe in Tentuligumma village near Mathili, organized the rebels successfully against exploitation by the officials of Jeypore Samsthanam in his young age, this brought him recognisation as a potential tribal leader and the National Congress Admitted Nayak into its fold. Nayak led a procession on 21 August 1942 and demonstrated peacefully in front of Mathili Police Station. The police however fired at the demonstrators indiscriminately, which killed and injured many innocent tribals. The administration implicated Nayak in a case of murder and the death sentence was pronounced on him on 13 November 1942. He was hanged on 29 March 1943 in Berhampur Jail and sacrificed his life for the Mother land.
This college is dedicated to the memory of Saheed Laxman Naik with the very objective of offering its services for the benefit of the suffering people of this part of the state and the country at large. Its evolving growth is based on value added medical education & research. MBBS students will first be taught initially the basic subjects like Anatomy, Physiology, Biochemistry, Pharmacology, Pathologyand then be exposed to multi speciality clinical subjects like Medicine, Surgery and Orthopedics, Obstetrics and Gynaecology, Pediatrics, Ophthamology, ENT, Community Medicine, Forensic Medicine and Toxocilogy. The students would be exposed to the multispeciality facilities, Public Health services along with ICU, ICCU, NICU and PICU provided to the patients as an integral part of their learning. The students learn the sensitive issues in medical science and health care with simultaneous emphasis on the introduction of technology in critical care, diagnosis and life support systems.
SLN Medical College Hospital is an intrinsic part of the Institute of Medical Sciences with a total number of 300 beds, 20 bedded intensive care unit. SLN Medical College & Hospital offers therapeutic care with a focus on preventive care for a healthy society. SLN Medical College & hospital commits itself to serve the society with care and human touch.